| | | |
| --- | --- | --- |
| | Stuffed cucumbers | |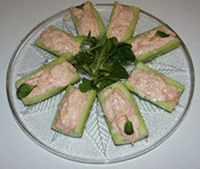 @Copyright Sylvie George
---
| | |
| --- | --- |
| Preparation time | 15 minutes |
| Cooking time | none |
| Serves | 4 pieces |

Nutritional value per piece

| Calories | Proteins | Fats | Carbohydrates | Magnesium | Calcium | Iron |
| --- | --- | --- | --- | --- | --- | --- |
| 63 | 3.7 g | 2.7 g | 5.8 g | 10 mg | 75 mg | 0.2 mg |
---
Ingredients

Instructions

1 cucumber
150 g of "fromage blanc"
1 small carrot
1 small bunch of watercress
2 Tbsp lemon juice
Salt and pepper
Cut the cucumber in small sections.
Mix the "fromage blanc" with the shredded carrot and the lemon juice.
Add salt and pepper.
Stuff the sections of cucumbers and plant in the mixture a small leaf of watercress.
Site realised by Laurence LIVERNAIS-SAETTEL, dietitican
© Copyright L. Livernais-Saettel 2001
Site hosted by MaVille-Online.